What We Talk About When We Talk About API Magnetic Drive Pumps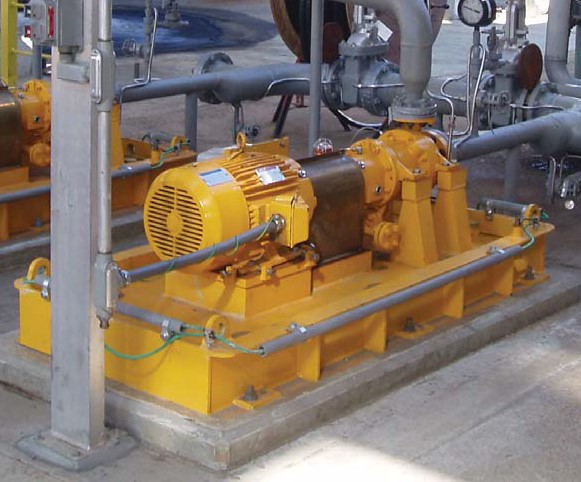 When it comes to API pump applications, the most common challenge is identifying the most reliable and efficient way to pump liquid while also preventing the escape of harmful fluid or gas. Leakage of this kind can not only reduce the efficiency of the entire pump system, but also increase operational costs and pose danger to both the operator and the equipment. This is especially critical when pumping corrosive or volatile solutions.
While mechanical seal pumps do provide protection against these efficiency issues and hazards, mechanical seal pumps are often expensive and time-consuming to engineer, contain complex moving parts, and can be costly to operate on a day-to-day basis. In addition, they also require supplemental support mechanisms to ensure a durable, reliable seal.
API magnetic drive pumps provide operators with a simplified and reliable solution that helps optimize efficiency and reduce costs without the need for any additional support systems. When it comes to magnetic drive pumps, the conversation should center on durability, flexibility, and reliability for use in challenging pump applications.
what are the main components of api magnetic drive pumps?
Simplified design, engineering, and operation is the calling card for API magnetic drive pumps. Not only does this help reduce the need for maintenance and troubleshooting that is part and parcel with mechanical seal pumps, it also helps plant operators increase reliability and thus productivity and overall return-on-investment.
The primary components of API magnetic drive pumps that help achieve this reliability include:
One-piece impeller: The single-piece construction of the impeller in magnetic drive pumps makes troubleshooting and maintenance fast and easy. Installation separate from the inner drive allows for simple replacement, and the simplified nature of the impeller design makes it easy for operators to warehouse spare parts and facilitate re-rating operations.

Solid, stationary shaft: The solid construction and stationary nature of magnetic pump drive shafts increase the stability of the pump during use. This helps reduce wear-and-tear, decreases the need for routine maintenance, and is ideal for heavy-duty applications.
Frame-mounted design: The simplicity of the frame-mounted design and engineering makes magnetic drive pumps easy to operate and maintain. With a minimal number of wetted parts, magnetic drive pumps can quickly be maintained or repaired in the field without the need for specialized tools or training.
Containment shell: Engineered to be part of the leakage-proof nature of magnetic drive pumps, the containment shell's corrosion-free nature also helps to prevent the escaping of dangerous or damaging chemicals. Mounted between the external magnets connected to the motor and the internal magnets connected to the rotor, the containment shell plays a critical role in the efficiency and reliability of magnetic drive pumps.

Shroud: Another vital part of a magnetic drive pump, shroud houses and protects the impeller along with the shaft and bearings that enable the impeller to turn on its axis. The capacity of the shroud to reduce heat buildup and power loss during operation is an important element in reducing operational costs and helping prolong the service life of the pump.


what makes api magnetic pumps superior to mechanical seal pumps?
API magnetic pumps provide several unique and important advantages compared to mechanical seal pumps, particularly when it comes to more efficient energy use, increased reliability, reduced need for regular maintenance or troubleshooting, and increased safety for both the operator and equipment.
Some elements that contribute to these benefits include:
Zero emissions or leakage without the need for supplemental support mechanisms even with corrosive or volatile chemicals, making magnetic drive pumps ideal for the chemical and petrochemical industry.
Reduced vibration due to a shorter impeller shaft and frame-mounted design. Decreased vibration helps to prolong the service life of the pump by reducing wear-and-tear from heavy-duty industrial use.
Simplified installation and easy integration from fewer moving parts compared with mechanical seal pumps means less downtime to help manufacturers mitigate lead time and create stronger partnerships with their customers.
Increased process efficiency from the interchangeable nature of important component parts and simplified part replacement and maintenance protocols. In addition, this increased process efficiency helps create a more durable and reliable pump solution for a stronger competitive advantage in a crowded market.
Another important benefit of API magnetic pumps resides in how little monitoring and operator intervention is required compared with mechanical seal pumps. In today's industrial landscape, time is money and the less time operators need to devote to pump monitoring or maintenance means more attention can be paid to more important projects.
Why choose a magnetic drive pump from ipec?
IPEC is an exclusive distributor of Sundyne HMD Kontro magnetic drive pumps. Engineered for the industry standard API 685 compliance for use in tough environmental conditions or challenging industrial applications, Sundyne HMD Kontro sealless pumps offer several unique design features for superior efficiency and performance.
First, Sundyne magnetic drive pumps use VapourView®, a liquid monitoring device that helps operators adopt a more proactive approach to fluid levels and flow optimized efficiency. Whereas most liquid monitoring systems work in a reactive way, VapourView® uses ultrasonic technology to detect the presence of gas in the internal flow regime before disruption or failure takes place. In addition, VapourView® can detect incorrectly primed or vented pump conditions to help operators make real-time adjustments to ensure consistent, reliable performance.
Secondly, Sundyne magnetic drive pumps incorporate ZeroLoss™ containment shell to help reduce heat accumulation and power loss during operation. Because there is no power loss between the inner and outer magnetic ring, the absorbed power of HMD pump with a ZeroLoss™ containment shell is equal to that of a mechanical seal pump but without the need for additional support systems.
Fully API 685 compliant, ZeroLoss™ is engineered for more robust operations and can accommodate larger magnetic drives for use in more extreme industrial environments. ZeroLoss™ containment shell also helps manufacturers increase the efficiency of handling liquefied gasses and heat-sensitive liquids for increased durability and longevity of use.
IPEC's expert technicians can show you how a Sundyne HMD Kontro API magnetic pump solution can help overcome your challenges and provide opportunities for growth. Our industry-leading service and maintenance team has the knowledge and know-how to provide maintenance and troubleshooting on your magnetic drive pump — or, for that matter, any industrial pump solution.
Learn how an API magnetic drive pump can help you optimize your industrial processes.