Meet the IPEC Team: Spencer McClure and David Spitz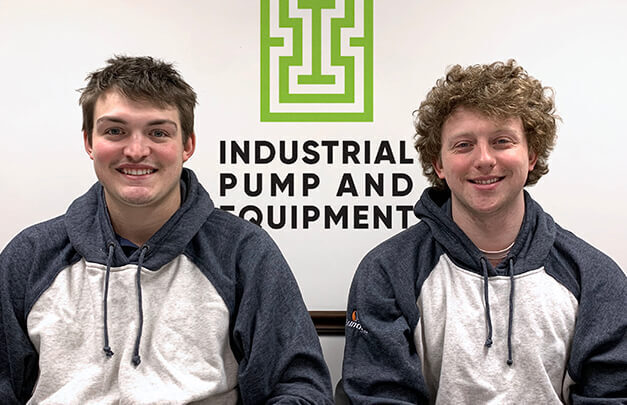 Customer Service Manager Spencer McClure (left) and Business Development Associate David Spitz (right) haven't been part of the IPEC family long, but their contributions have already been significant in helping our customer unlock increased efficiency through process automation. Whether it's leading the charge on sales campaigns, helping to fulfill customer orders and coordinate shipping logistics, or, as Spencer jokingly puts it, "just keeping the office from burning," Spencer and David play a key role in helping us satisfy our commitment to providing the best quality industrial pumps and compressors on the market.
spencer, you joined the team in october. tell us a little about what you do with ipec?
I help create sales and purchase orders, as well as helping Scoop with shipping. My most important job is interacting with customers and making sure the office doesn't burn down.
What makes ipec a unique or special place to work?
I've barely worked here for more than a month and I already feel like part of the family.
you're at a bar: do you order nachoes or jalapeno poppers?
This really all really depends on what I'm allowed to add to each one of these orders. If I had to choose one of these without being able to add anything, I would pick nachos, mainly because nacho cheese is my kryptonite. But if there's something that I like more than nacho cheese it's ranch, especially spicy ranch, and being able to dip the poppers in there makes that a game changer.
what's your favorite weekend activity?
As a huge Cleveland sports fan, my favorite weekend activity would be tailgating with friends and family right before a Browns victory.
david, you came aboard in june of this year. what does your day-to-day look like?
I lead sales campaigns by making in-person sales calls to existing and future customers. When I am not on sales calls, I assist customers by providing information about our products.
for a company searching for the right industrial pump or compressor, what's your 60-second elevator pitch for ipec?
The experience, knowledge, and service of IPEC make it a worthwhile company to partner with. Despite few employees working here, the company combines over 150 years of experience in the pump business. With experience comes an extensive amount of deep-rooted knowledge of our products as well. Records of pumps dating from over 60 years and up until today can be found at our company. Consequently, we can provide solutions and problem-solve all our customers' issues across a variety of industries.
you're at a bar: do you order nachoes or jalapeno poppers?
This is a very tough question. Typically, I would start surveying the bar to find nachos someone else ordered. If they appear to be crunchy, smothered with a bunch of toppings, and hot, I will order them. If they were typical concession stand nachos with bottled salsa and cheese on the side, I would opt into ordering jalapeno poppers with a side of ranch. If there is no ranch available though, I would get the nachos regardless of appearance.
what's your favorite weekend activity?
Watching the Cleveland Browns on Sunday.
Thanks to Spencer and David for their time, and look for more Meet the IPEC Team features coming soon!