Meet the IPEC Team: Scoop Graeter, Service Manager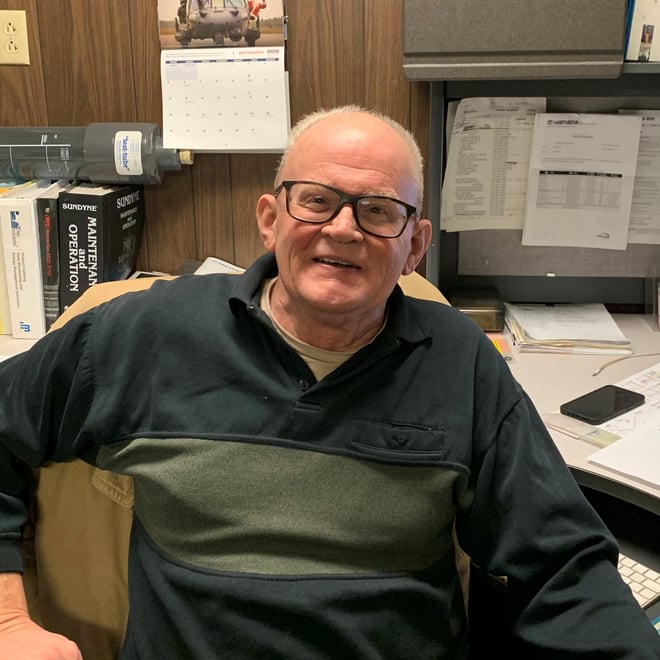 Scoop Graeter is IPEC's Jack of All Trades. With more than 20 years of experience with the company, Scoop is one of the more senior members of the IPEC family and puts his industry knowledge and talents to work each day helping customers repair, service, or overhaul their industrial pump solutions to optimize their efficiency and functionality. A former small-business owner and self-proclaimed steak lover, it's impossible to imagine IPEC without Scoop and the hard work and dedication he brings to shop each and every day.
when did you join the ipec team?
I've been part of the IPEC family since August 2000.
tell us a little bit about the work you do as part of the ipec team?
I wear many different hats every day but I primarily work with customers on pump repairs and service. However, I also assist with the shipping and receiving of products and work with customers on facilitating service questions and concerns.
for a company looking for an industrial pump solution, what's your 60 second elevator pitch to partner with ipec?
Everyone at IPEC works together as part of a close-knit team to get the job done.
How did you get into this industry? What was appealing about this kind of work?
I owned and operated a hardware store for 21 years. Immediately after closing my store, I received a phone call from Mark to help install some Kontro pumps. From there, things grew and it eventually turned into a full-time opportunity.
What's the most challenging part of what you do? On the flipside, what's the most rewarding?
The challenging part would be keeping customers happy and ensuring the products and services we provide meet (and hopefully) exceed their expectations. On the flip side, the most rewarding part is seeing a pump in action after I finish servicing it.
tell us a little bit about what you do outside of your work? who is scoop outside the shop?
I enjoy doing remodeling work for myself, particularly woodworking and believe it or not. Yard work? Not so much. No digging for me. I don't know if the two new hips will put up with digging. That's the excuse I'm going to use anyway…
Is there one thing (or set of things) you feel makes ipec unique?
We may be small but we have more than 150 years of industrial pump and compressor experience at our fingertips.
what drives you to do what you do every day?
My wife.
time for some speed round questions: what did you want to be when you were 8 years-old
Honestly, I can't really remember my thoughts at 8 years-old…
cake or pie? what kind?
Chocolate cheesecake.
favorite restaurant?
Bob's SteakHouse in Amelia Island, Florida. Best tomahawk steak.
favorite season of the year and why?
Summer. Love the sunshine.
what's your dream vacation?
A boat trip up the East Coast's intracoastal waterway.
the last tv show you binge-watched, or the last show you really enjoyed?
Just about any show on the History Channel or the Science channel.
Thanks to Scoop Graeter for letting us get to know him a little bit better! Read our previous Meet the IPEC team features here and keep an eye out for more features coming soon!