How the Fybroc Advantage Creates Fiberglass Reinforced Pumps That Are Built to Last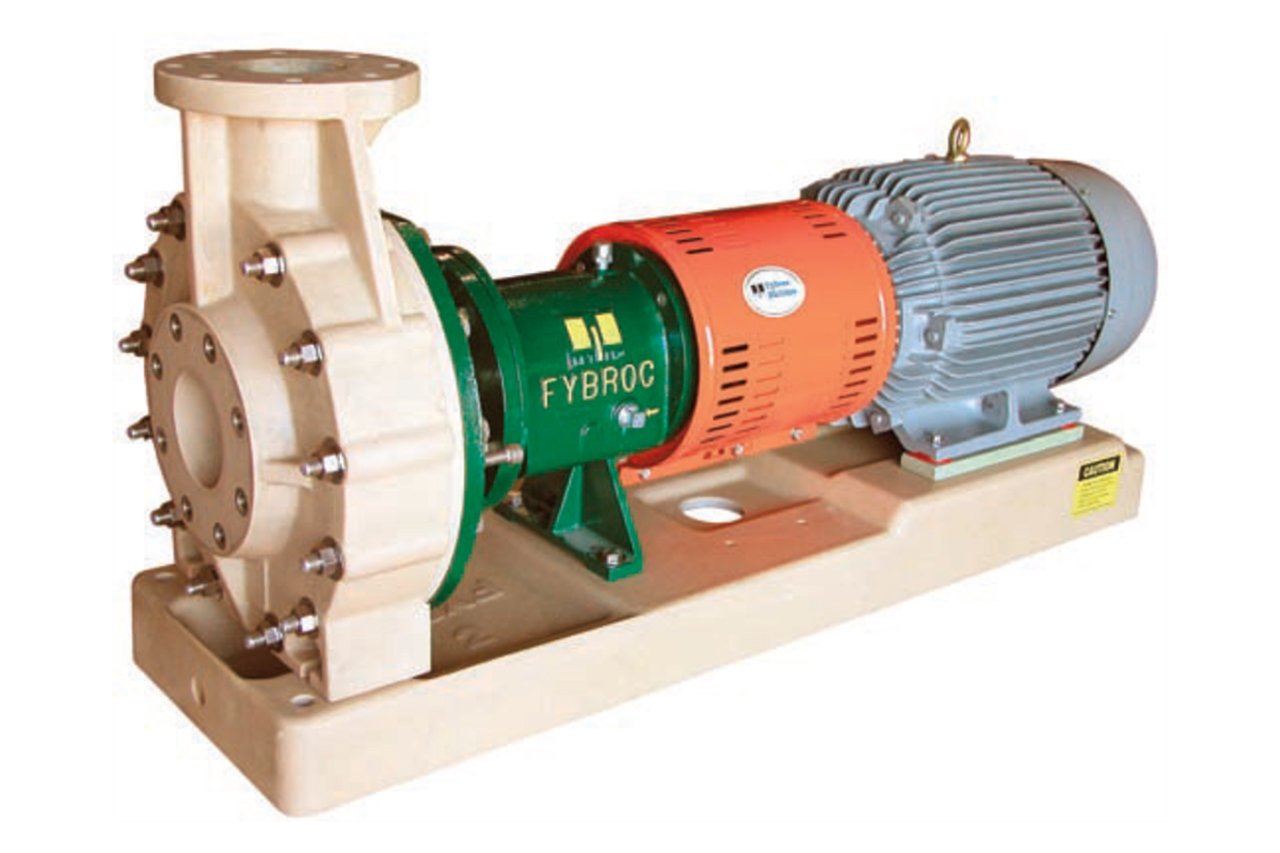 The ability to optimize fluid management in several major industrial landscapes is based on pump systems that are engineered to be corrosive resistant. The two most common types of industrial pumps that can combat the use of highly corrosive fluids are fiberglass reinforced polymer (FRP) pumps and metallic pumps.
While metallic pumps have their place in a variety of industrial applications, the use of fiberglass resins in the construction of FRP pumps offer a more durable pump solution through:
Reducing the need for repair or replacement of component parts
Decreasing maintenance intervals for maximum uptime
Increasing the overall service life of the pump itself
Built for use in tough environmental conditions or with harsh chemicals such as acids, brines, caustics, bleaches, wastewater, and others, FRP pumps increase both productivity and ROI throughout the time of use – the trouble is that not all FRP pumps are designed equally.
Beginning in 1966 with the introduction of the first FRP pump, Fybroc's dedication to design and engineering innovation have helped plant operators outpace their competition through three key components in FRP pump design and engineering that demonstrate the Fybroc Advantage.
In this blog, we'll briefly examine these key elements — design durability, enhanced corrosion protection, and in-house manufacturing customization — for a better understanding of how the Fybroc Advantage creates fiberglass reinforced pumps that are built to last.
How resin transfer molding creates a more durable pump design
When weighing the choice of FRP pumps, the proof is in the durability of construction and the processes used to facilitate that construction.
Most of the FRP pumps in today's market use traditional compression molding as their primary means of construction. While a relatively fast method of construction, traditional compression molding uses chopped glass to reinforce the pump walls and chamber, which is prone to more rapid erosion with continuous use of corrosive liquids. In addition, compression molding includes the use of large amounts of clay filler, which further compromises the ability to resist corrosion and thus decreases durability and reliability.
The unparalleled level of durability with Fybroc FRP pumps is due in large part to the construction process of the fiberglass components inside the pump. Built using the Resin Transfer Molding (RTM) process, long fiberglass strips are applied more strategically throughout the pump in places of high stress or where corrosive fluids accumulate during use. The RTM method also allows for the use of thinner pump and chamber walls comprised entirely of pure fiberglass resin for a stronger, more corrosive-resistant design.
There are a handful of additional design elements that make Fybroc FRP pumps a more long-lasting industrial solution.
First, a single-piece casing design helps create a stronger, more durable pump flange, which in turn helps extend the reliability of the pump throughout its service life while also enhancing overall efficiency. Second, Fybroc horizontal FRP pumps use an integral shaft sleeve to eliminate o-ring and shaft deterioration or damage, which is critical in reducing the likelihood of pump failure and costly downtime.
Part and parcel of the Fybroc Advantage is simplifying the engineering and in-field operation of industrial pumps. Both of these simplified design features lend themselves to quick and easy component part interchangeability to streamline what little maintenance is required, and also create a more flexible pump solution in terms of troubleshooting or upkeep.
How vinyl ester resins create enhanced corrosion resistance
The overall quality and corrosion resistance of FRP pumps depends greatly on the vinyl ester resins used in the creation of the fiberglass material with which the pump is built.
The fiberglass used in the construction of Fybroc's FRP pumps consists of high quality and high purity vinyl ester resins that contain the lowest percentage of inert fillers compared with other commercially available vinyl resins. In addition, the wide range of vinyl ester resins and epoxies used in Fybroc pumps helps ensure corrosion resistance and operational compliance across a variety of industries like the oil & gas, water and wastewater, and chemical and petrochemical industries.
Another key piece of the Fybroc Advantage in terms of ester resin use is the relationship between thermoset and thermoplastic resins.
Fybroc's vinyl ester resins are also thermoset resins which are better equipped for prolonged use with high temperature liquids. Thermoplastic resins, on the other hand, soften much more easily under the stress of high temperatures, which can increase the likelihood of fault or failure within the pump. Plus, the rapid cooling and hardening of thermoplastic resins after extended use can result in more rapid deterioration over the service life of the equipment.
The integration of thermoset resins into Fybroc's fiberglass construction creates a pump system with more structural integrity in a wider variety of challenging industrial applications, and a more robust ROI when consistently used with hot or corrosive materials.
How fybroc's in-house pump manufacturing shortens your supply chain
Like so many other industries, the general industrial and manufacturing space is looking for faster, more efficient ways to overcome supply chain instability in the wake of the COVID-19 pandemic. Increases in pricing, labor shortages, and shipping and delivery disruptions all play a part in extending lead times and hampering productivity.
Fybroc manufactures its FRP pumps in-house for more control and oversight into each stage of the pump construction process. This not only helps ensure a superior quality pump, as Fybroc's expert technicians can monitor the addition of additives and catalysts into each pump for field-proven durability and corrosion resistance, but in-house manufacturing also helps reduce lead times, decrease shipping costs, and ensure each pump meets ANSI, ISO, DIN, and JIS specification for out-of-box deployment.
Because of the variant-rich nature of today's industrial landscape, companies often need custom pump solutions to overcome very specific challenges. Fybroc's in-house team of production and assembly specialists have the industry expertise to create custom FRP pumps based on precise specifications to help industrial operators respond to the unique variables in their respective industry.
IPEC's long history and proven track record of success as a Fybroc partner can help engineers, plant operators, and maintenance personnel discover the right Fybroc FRP pump to meet their pump system needs. Combined with Fybroc's field-proven reputation for innovation and cutting-edge fiberglass technology, IPEC's own team of expert industrial pump technicians can help with FRP pump sizing and selection, troubleshooting, and maintenance to help ensure our customers are getting the most out of their pump systems.
Contact us to learn more about Fybroc pumps from IPEC.