High-Pressure Pumps: Why Single-Stage is a Better Investment than Multi-Stage for Upstream Oil & Gas
"Which is better: a single-stage pump or a multi-stage pump?" This is a question our oil & gas customers often ask. For upstream applications like brine injection into deep wells, where disposal water needs to be reliably and quickly filtered, the clear answer is single-stage. While horizontal multi-stage pumps have been the accepted technology for years, switching to a single-stage pump comes with significant benefits.
The Differences between a Single-Stage Pump and Multi-Stage Pump
The primary difference between a multi-stage pump and a single stage pump is the number of impellers. With multi-stage pumps, the fluid flows through multiple impellers — we often see pumps that have 25 or more. With single-stage pumps, fluid flows through only one impeller.
While it might seem like a single-stage pump would be less powerful, they can actually achieve the same flow and pressure as multi-stage pumps thanks to technological advancements, like a speed-increasing gearbox that gets up to 20,000 RPMs to create flow and pressure. This makes the single-stage pump more efficient while allowing for a smaller footprint and easier maintenance over the life of the pump.
The Benefits of Using a Single-Stage Pump
Smaller Footprint. Single-stage pumps offer major space savings. We often see multi-stage pumps that are 30 feet long, whereas the pump we recommend for LACT (Lease Automatic Custody Transfer ) transfer and boost is just 5 feet long.
Lower Utility Consumption. The particular single-stage pump that we recommend, the Sundyne Sunflo, utilizes high speeds to keep the motor size low, resulting in increased efficiency and energy savings.
Easy, Quick On-Site Maintenance. One of the biggest advantages of a single-stage pump over a multi-stage pump is how easy and quick it is to maintain. The Sunflo, for example, can be overhauled in minutes without having to remove the pump from the baseplate and requires no special training to service. The high-speed shaft assembly comes complete with all the rotating parts, seals, and bearings you need, making an in-place overhaul fast and trouble-free.
When a multi-stage pump needs maintenance, it must be completely removed and shipped to a service center. The process of rebuilding and returning the pump can take two to three weeks, whereas the popular saying about Sunflo maintenance is "One person. One wrench. One hour."
Lower Total Cost of Ownership. Because of the substantial downtime involved in multi-stage pump maintenance, many operators of multi-stage pumps will purchase a back-up pump in order to prevent long periods of downtime — meaning they are paying for and storing two pumps instead of one.
For our single-stage pump customers, instead of a spare pump, we recommend a spare cartridge assembly. The assembly is everything needed for a complete wet end rebuild at a fraction of the cost of a complete spare pump. One easy-to-maintain single-stage pump not only takes up much less space but is a better investment, especially if you look at the ROI over a period of years.
Success Story: Sunflo Pipeline Injection/Booster Pump
We recently installed a Sunflo single-stage pipeline injection/booster pump as part of a customer's LACT unit.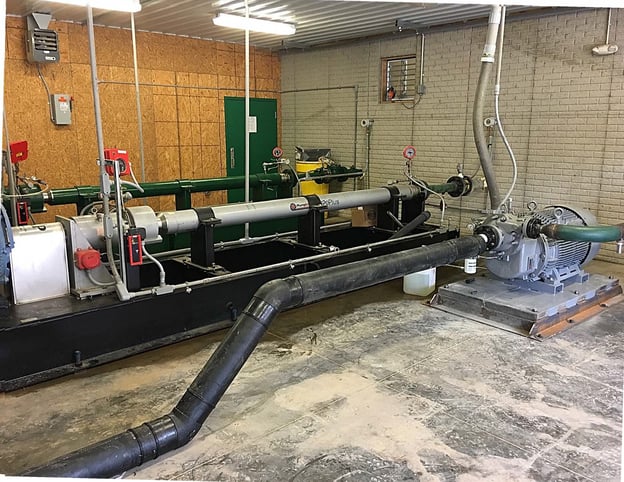 The Sunflo (the gray pump pictured at center-right) has a much smaller footprint than the customer's two multi-stage pumps (the long green and silver pumps at middle and back). This pump was much simpler to install and achieves the same flow and same pressure as the customer's multi-stage pumps.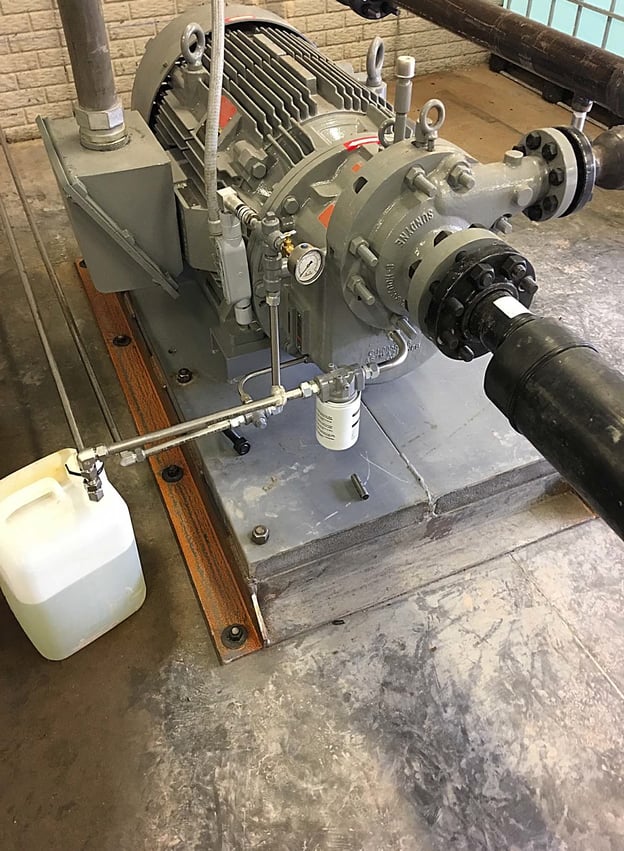 In this image, you see the entire wet end of the Sunflo. The black line that comes into the pump is flanged to the pump's suction, and the discharge line is to the right. The entire pump case sits between them. When maintenance is needed, all the customer needs to do is remove the suction flange, the discharge flange, and the pump casing bolts. Within an hour, they can have the wet end disassembled, reassembled, and back in service.

When to Make the Switch from Single-Stage to Multi-Stage
If your multi-stage pump has required frequent maintenance and is causing too much downtime, it may be time to look into a high-speed, high-pressure single-stage pump. Sunflo pumps are available in close-coupled, frame-mount, or base plate configurations, and our customers love their versatility, small footprint, and ability to be repaired and maintained in place. IPEC is an authorized channel partner for Sundyne, and we also engineer and build custom Sundyne pump systems, tailored to meet your needs and specifications.
If you know you're ready to make the switch, contact us to talk about options.