Why Today's Plant Engineers Choose BaseTek for Their Baseplate Solutions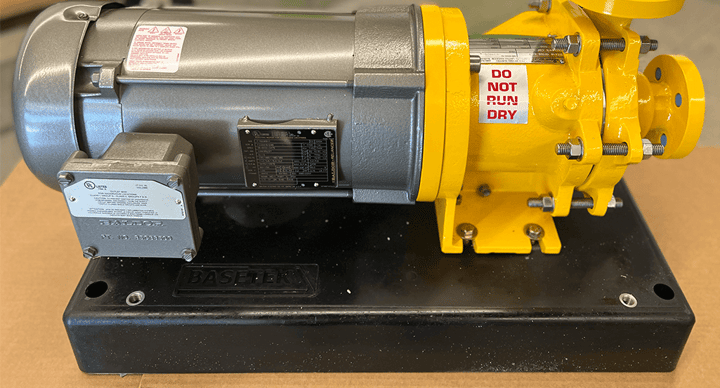 A quality foundation is critical to the stability of any structure, whether it's a house, office building, or skyscraper.
The same can be said of the relationship between baseplates and industrial pumps, which is why choosing the right baseplate for your pump is key to optimizing your overall efficiency and productivity. The challenges of selecting the right baseplate most commonly include:
Identifying the right baseplate construction material for your application
Compliance with current industry regulations
Understanding the right accessories to truly optimize your baseplate solution
To help overcome these hurdles, more and more of today's plant engineers are partnering with BaseTek for their 20+ years of industry-proven experience in providing baseplates with the durability, rigidity, and corrosive-free design for use in a variety of harsh environmental conditions.
In this blog, we'll look at the common types of industrial pump baseplates, and why partnering with IPEC and BaseTek can help you choose the ideal solution for your specific needs.
What are the common types of industrial pump baseplates?
Baseplates are a key component for ensuring the service life of your pump. By helping to reduce undue wear and tear or damage due to vibration, contact with harmful chemicals, or exposure to environmental elements like wind or rain, baseplates can also help optimize your pump efficiency and productivity by providing a sturdy, durable foundation on which your pump can operate.
The most common types of construction material used in baseplate manufacturing include:
Fiberglass baseplates: Corrosion-resistant for use with caustic or corrosive chemicals often found in the concrete or oil & gas industries, fiberglass baseplates provide high degrees of strength and stiffness to combat intense operational conditions. Fiberglass baseplates can also be grouted to the pump itself to provide increased degrees of stability and support for contentious or prolonged use.
Stainless steel baseplates: For contexts where grouting is not ideal, stainless steel baseplates offer more stability compared to their fiberglass counterpart. While the increased weight reduces the ease of mobility and flexibility with in-field use, stainless steel baseplates are easy to clean and they eliminate painting maintenance over the course of their service life.
While not necessarily considered a type of baseplate, it's worth discussing channel bases as they are somewhat common. Engineered for basic pump designs and ideal for use in relatively controlled manufacturing environments, channel bases use a single piece of stainless steel as the pump base, and their simplified design and use also provide easy cleaning and troubleshooting processes.
What are the benefits of industrial baseplates from basetek?
Designed for superior durability, stability, and resistance to corrosion, industrial baseplates from BaseTek help plant engineers prolong the service life of their pumps. Compliant with ANSI/ASME standards and compatible with NEMA and IEC motors, BaseTek baseplates are easily integrated with both frame-mounted and closed-coupled pumps.
In addition, off-the-shelf availability with each of these pump designs helps to significantly reduce lead times and simplify your supply chain logistics.
To further enhance the rigidity and reliability of their baseplate solutions, BaseTek uses a polymer composite called Zanite Plus as a replacement for large quantities of traditional materials such as iron, aluminum, and steel — each of which is commonly found in baseplate construction.
Zanite Plus is a highly-specialized polymer composite that is at the core of BaseTek's PoxyBase line of baseplates. Not only does this polymer composite provide top-tier design flexibility and precision in tolerances, but the workability of Zanite Plus in baseplate production reduces manufacturing time to help you get the baseplate you need fast.
In addition to rugged, corrosion-resistant baseplates, BaseTek also offers a wealth of accessories for easy installation, integration, and troubleshooting with minimal downtime or disruption in production. Some of these accessories include mounting blocks, insert kits, and stilt mounting kits, each of which is designed to adhere with current industry regulations and standards for off-the-shelf use.
why partner with ipec for your basetek baseplate solution?
IPEC has decades of experience and expertise in outfitting plant operators with the centrifugal pumps, baseplates, and baseplate accessories for a wide variety of applications such as the oil & gas, concrete, and chemical and petrochemical industries. Our partnership with leading manufacturers like BaseTek allows us to facilitate custom baseplate solutions to overcome your specific challenges, and to deliver the ideal equipment for your application with an eye on decreasing overall cost and lead times.
In addition, IPEC's expert technicians can help design and troubleshoot your ideal pump and baseplate pairing to increase efficiency and save you time and money. Plus, our new and expanded Ohio headquarters offers a robust inventory of baseplates and accessories to help plant engineers, reliability engineers, and maintenance specialists get their hands on the right equipment quickly and easily.
With IPEC and BaseTek, you can rest easy knowing your baseplate is built to last. Contact us to learn how we can help you find the right baseplate for the job.